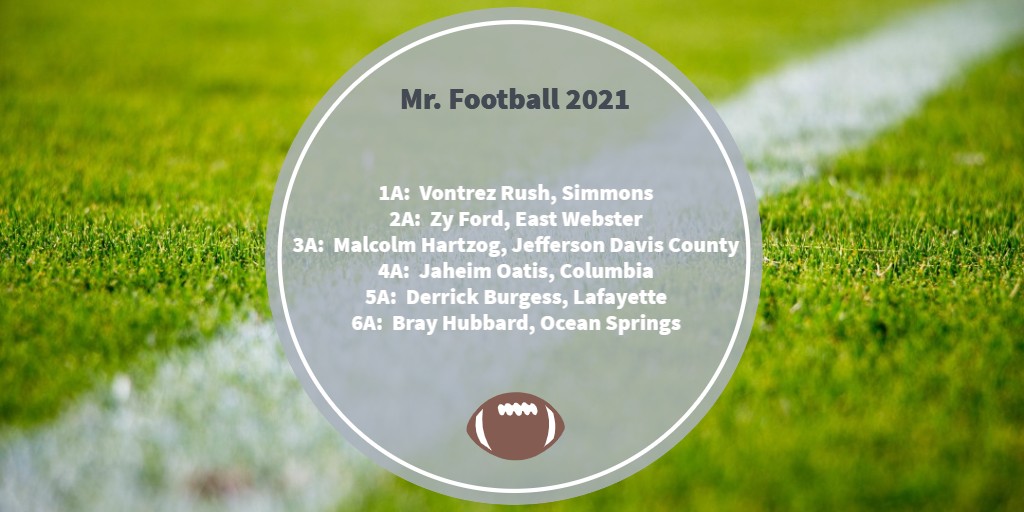 Mississippi Mr. Football Awards announced for 2021
CLINTON, MS  - Monday, November 15
Six players — one from each MHSAA classification — were selected Monday, November 15th as Mississippi Mr. Football recipients for the 2021 season in partnership with the New Orleans Saints, Mississippi High School Activities Association and the Mississippi Association of Coaches.
The winners were selected by a statewide committee of high school coaches and media who cover high school football:
Class 1A: Vontrez Rush, Senior RB, Simmons, Coach Tavares Johnson
116 Rushes for 1,615 yards and 26 Rushing TD's
27 Receptions for 331 yards and 4 Receiving TD's
1 KOR for TD
4 Pass Breakups
2 INT's
Class 2A: Zy Ford, Senior LB, East Webster, Coach Ron Price
132 Tackles, 72 Solo's, 60 Asst
20 Tackles for loss
7 Sacks
2 Caused Fumbles
106 Rushes for 790 yards and 10 TD's
2 Receptions for 26 yards
Class 3A: Malcolm Hartzog, Senior RB, Jefferson Davis County, Coach Lance Mancuso
71 Carries for 1,231 yards and 28 Rushing TD's
7 Two-Point conversion rushes
7 Receptions for 163 yards and 3 TD's
5 Punt Returns for TD's
6 KOR's for TD's
11 Kick returns for 403 yards
23 Tackles,
7 Tackles for Loss
3 INT's
7 Pass Breakups
1 Fumble return for TD
Class 4A: Jaheim Oatis, Senior DL, Columbia, Coach Chip Bilderback
55 Tackles
22 Tackles for loss
5 sacks
Class 5A: Derrick Burgess, Senior LB, Lafayette, Coach Michael Fair
108 Tackles
80 Solo Tackles
28 Assists
38 Tackles for loss,
16 Sacks
1 INT
1 Fumble Recovery
1 Blocked Punt
Class 6A: Bray Hubbard, Junior QB, Ocean Springs, Coach Blake Pennock
148 Completions, 215 Attempts, 2,007 yards
30 TD Passes, 3 INT's
141 Rushes, 1,071 yards
20 Rushing TD's
Presentation dates and locations for the Mr. Football awards will be announced at a later date.
The Blue Cross & Blue Shield of Mississippi Gridiron Classic is scheduled for Friday, December 3 and Saturday, December 4 at M.M. Roberts Stadium in Hattiesburg.