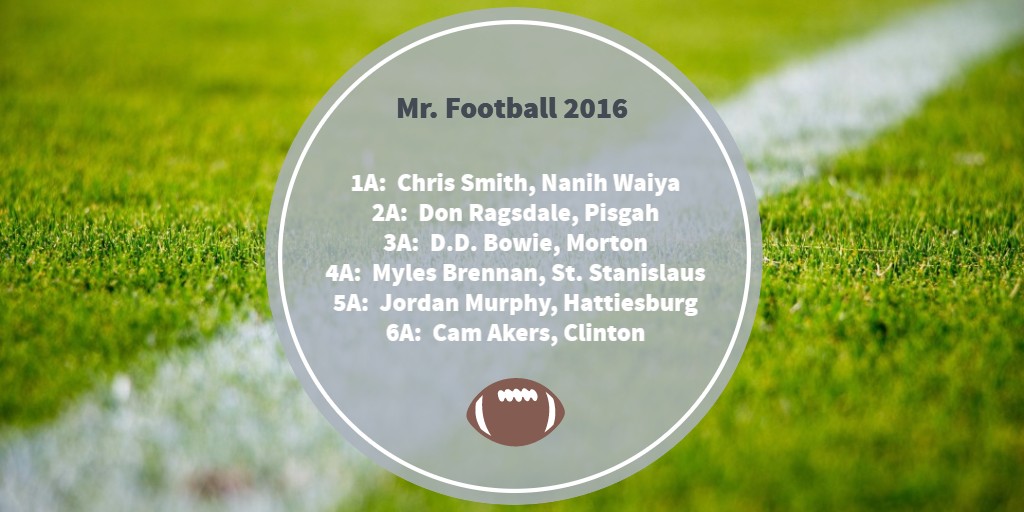 1A:  Chris Smith (Nanih Waiya), a 5-10, 180-pound junior running back/receiver/cornerback, has totaled 1,544 all-purpose yards and scored 30 TDs for the Warriors (11-1). He also 27 tackles and 2 interceptions on defense.
2A:  Don Ragsdale (Pisgah), a 5-10, 190-pound junior running back/safety, carried 311 times for 3,081 yards and scored 39 touchdowns for Pisgah (9-3). He had 69 tackles and 5 sacks on defense.
3A:  D.D. Bowie (Morton), a 6-1, 197-pound senior quarterback/receiver/defensive back, accounted for 2,664 yards and 40 TDs for the Panthers (8-4). He also had 2 blocked field goals and 1 interception. He has committed to Ole Miss.
4A:  Myles Brennan (St. Stanislaus), a 6-4, 187-pound senior quarterback, has completed 253 of 363 passes with 46 TDs and 1 interception for the Rock-A-Chaws (10-1). He also has rushed for 445 yards and 9 TDs. He has committed to LSU.
5A:  Jordan Murphy (Hattiesburg), a 6-1, 175-pound wide receiver, has caught 70 passes for 1,556 yards and scored 21 TDs for the Tigers (9-3). He has committed to Tennessee.
6A:  Cam Akers (Clinton), a 6-0, 215-pound senior quarterback, has completed 123 of 192 passes for 2343 yards with 25 TDs and 4 interceptions for the Arrows (10-1). He has also rushed for 1,312 yards and scored 22 TDs.
Six Recognized As Mr. Football for 2016
CLINTON, MS  - Thursday, November 10
Six players, one from each MHSAA classification, were selected Thursday, November 10 as Mississippi's Mr. Football for the 2016 season in a partnership with the New Orleans Saints.  The winners as chosen by a selection by a statewide committee of high school coaches and media who cover high school football.
The Mr. Football selections from Class 6A, 5A, 4A, 3A, 2A and 1A will be recognized at a banquet in Starkville on Thursday, Dec. 1. The Blue Cross and Blue Shield of Mississippi Gridiron Classic State Football Championships are set for Dec. 2-3 at Davis Wade Stadium on the campus of Mississippi State University in Starkville. The awards are a partnership with the Saints, MHSAA and Mississippi Association of Coaches.
"As proponents of youth football, we are thrilled to participate in the recognition of the top players in the state of Mississippi," said Saints President Dennis Lauscha.  "Annually, we are very active with numerous youth program visits all across the state of Mississippi. We also recognize that many high school coaches from Mississippi participate in the various coaching clinics that we host throughout the year and it's very natural that we are supportive of the missions of the Mississippi Association of Coaches and Mississippi High School Activities Association.  We are very proud of our long history of having some of the very finest men, both professionally and personally, that Mississippi high schools have produced, including Archie Manning, Freddie McAfee, Deuce McAllister and so many other fine players, as members of the Saints family and we look forward to the next generations following in their footsteps."