The 2023 MAC Hall of Fame Banquet is scheduled for Friday, June 23, 2023 at 6 PM at the Sheraton Refuge Hotel in Flowood, MS.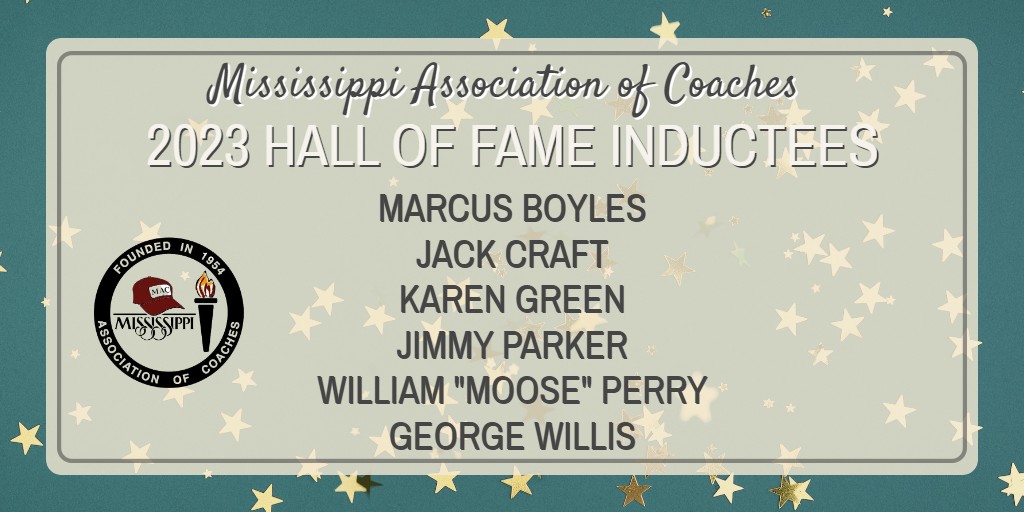 Click here to view the Press Release.
2023 Hall of Fame Inductees

Coach Marcus Boyles

 

Coach Marcus Boyles is a 32-year veteran championship football coach who led programs at Pearl, Petal, Wayne County and Taylorsville. A native of Bay Springs, Coach Boyles graduated from Raleigh High and completed his education at Jones Junior College, Southern Miss, and William Carey.  He began his coaching career at Florence High as an assistant coach from 1989 to 1991.  He then worked as an assistant at Louisville from 1991 to 1993 before arriving at Taylorsville as a head coach and athletic director.  He guided his Tartars football teams to 5 district titles and state championships in Class 2A in 1994 and 1995.  His Taylorsville teams compiled an amazing mark of 67-4. He served as head football coach at Pearl for two seasons from 1998 to 2000 where his Pirate teams won two district crowns in Class 5A.  In two short years at Pearl, his teams rolled up a record of 20 wins and only 7 losses.  In 2000, he arrived at Wayne County as head coach and athletic director and guided his football squads to five Class 4A District titles and three state championships in 2002, 2003, and 2006. Coach Boyles led Wayne County to 127 wins and only 21 losses during his 11 seasons at the school.  He moved to Petal in 2012 again as head football coach and athletic director. Marcus coached Petal football to two Class 6A district crowns and a record of 80 wins and only 39 losses.   Now coaching at Meridian, entering the 2023 season, his teams have compiled a remarkable record of 294 wins and 71 losses.  Coach Boyles' teams have played 9 times in state championship games, winning a total of 5 state titles in three different classifications.  He is one of the winningest football coaches in Mississippi high school history.  Coach Boyles is highly decorated as a coach of the year including the 2003 MAC Coach of the Year Award, the 2004 and 2007 MHSAA Coach of the Year Awards, and the 2004 NFHS Mississippi Coach of the Year.  He served as an assistant coach for the Junior National USA team in 2009.  Marcus served as an assistant coach in 1997 and as a head coach in 2002 in the Bernard Blackwell All-Star Classic.  Coach Boyles was an assistant coach in 1998 and head coach in 2008 in the Mississippi/Alabama All-Star Football Classic.  Coach Boyles is a longtime MAC member who has served on the MAC Board and was a member of the NFHS from 2003 to 2009.  He has given back to the profession as a clinic speaker at the MAC Clinic, Mississippi State, Auburn, LSU, Alabama, Louisville, and the Frank Glacier clinics.  As an athletic director, he was responsible for installation of synthetic turf on the football field, the softball fieldhouse, and the baseball indoor facility and fieldhouse at Wayne County.  At Petal, he used his administrative skills to help build a softball fieldhouse and a girls and boys soccer fieldhouse.  He spent 25 years as an athletic director at Taylorsville, Wayne County, and Petal leading large athletic staffs, budgets, and students.  He was named the administrator of the year at Petal for the 2018-19 school year.

Coach Jack Craft

Posthumous Induction

The late Coach Jack Craft was a 35-year MAC member who coached football, basketball, and baseball at Richton and Purvis.  A native of Taylorsville, Jack was and all conference football and basketball player and best all-around athlete in his senior year at Taylorsville High in 1959. After receiving his college degree from Southern Miss in 1963, he began his 27-year coaching career at Richton.  Coach Craft worked as head coach for the Richton football, girls' basketball, and baseball teams.  Jack led Richton football to the Singing River Conference title in 1963.  After spending three years at Richton, Jack arrived at Purvis in 1967 where he served as head football coach, athletic director, and head baseball coach.  Coach Craft built a solid football championship legacy at Purvis and guided his teams to 6 Apache Conference titles and one district crown.  Overall, Jack's football teams compiled a record of 182 wins, 78 losses, and 6 ties.  He was named conference coach of the year an amazing 10 times, WBKH Radio Coach of the Year in 1969, and in 1985, he was selected as coach of the year by WDAM-TV and the Hattiesburg American.  Coach Craft was assistant coach in 1970 and head coach in 1974 in the Bernard Blackwell All-Star Classic. As South head coach in 1974, his team defeated what columnist Carl Walters deemed the North team as the "greatest group of young athletes ever assembled" by the decisive score of 33 to 10.  Coach Craft was forced to retire in 1990 due to health concerns, but he guided many student athletes to college scholarships at Southern Miss, Ole Miss, Mississippi State, Alabama, Army, Jones Junior College, Pearl River Junior College, Mississippi College, and Millsaps. In 1975, Purvis High named the football fieldhouse the "Jack R. Craft Fieldhouse" in his honor. Coach Craft passed away in 2016.    

Coach Karen Green

Coach Karen Green is a 28-year coaching veteran who was born in Oxford, and is a 1969 graduate of Potts Camp where she was an all-conference basketball player.  From 1969 to 1973, she was a member of the MUW basketball team that captured the 1971 National women's title and finished 4th in the nation in 1972.  Coach Green completed her college education at Ole Miss where she finished graduate school in 1975; she later earned NIAAA certifications as an athletic director, test administrator, and LTI instructor. Karen started her 28-year coaching career at Pascagoula where she led the girls' basketball program and the junior high track and field squad from 1973 to 1974.  She then worked at Ole Miss where she was an assistant women's basketball and volleyball coach from 1974 to 1975.  In 1977, Karen arrived at Mt. Pleasant Christian Academy where she expanded her coaching duties as head girls' basketball coach, head junior high basketball coach, head softball coach, and head coach of the track and field team. In 1993, Coach Green returned to her alma mater at Potts Camp where she would spend the next 19 years developing a track and cross-country dynasty.  During her tenure at Potts Camp, Karen has been assistant baseball coach, head junior high basketball coach, head girls' basketball coach, head softball coach, head coach for junior high and varsity track and field and cross-country for both the boys' and girls' squads. In addition, she served as the school's athletic director for 15 years.  Along with all of her coaching responsibilities, Karen taught a full load of classes each year including advanced science, health, and driver education.  She also drove a bus route for 6 years and drove the bus for all of her athletic events.  Coach Green led her Potts Camp cross-country and track squads to 26 district titles, 14 regional crowns, 8 North half titles, 8 state runner-up finishes, and 10 state championships.  Coach Green was named the MAC Cross Country Coach of the Year in 1998 and the MAC Track and Field Coach of the Year in 2001.  She was the NIAAA South Sectional Region Coach of the Year for track and field in 2002 and was named the MHSAA Athletic Director of the Year in 2010.  Coach Green was Potts Camp Teacher of the Year for 1997 - 1998 and received the NIAAA State Award of Merit in 2009.  She helped the school establish softball, cross-country, track & field, football, powerlifting and volleyball programs.  Karen also supervised the building of a new sports complex at Potts Camp.  When she started at Potts Camp, there were only three coaches on staff, but as the program grew, the coaching staff rose to between 8 and 12 coaches at the small school with enrollment of around 200 students and a small athletic budget.  In 2012, Karen slowed down active coaching and became the Marshall County District Athletic Director until her retirement in 2016.  An active member of the MAC, Karen was a committee member and chair and was a member of the MAC Board of Directors.  She served as vice president and president of the Mississippi Athletic Administrators Association and a member of the long-range planning committee.  She was on the credentials committee and state coordinator for certification with the National Interscholastic Athletic Administrators Association.  Even though she is retired, Karen continues to work with the MAAA and the NIAAA.  She received the NHSACA Kathy Holloway Woman of Inspiration Award in 2022.  In addition to MAC Coaches Hall of Fame membership, Coach Green is the first female ever inducted into the Mississippi Athletic Administrators Association Hall of Fame having received the distinction in 2022.  She was also inducted into the inaugural class of the MUW Athletics Hall of Fame in 2023.

Coach Jimmy Parker

Coach Jimmy Parker is an outstanding championship pioneer softball coach who is a 37-year MAC member spending his entire career at Harrison Central High. Born in Gulfport, Jimmy graduated from Harrison Central and earned his college degrees at Pearl River Junior College and Southern Miss. Coach Parker began his coaching career at Harrison Central in 1986 as an assistant and established the slow pitch softball program at the school in 1992 and the fast pitch team in 1995.  In his 33-year tenure as head softball coach, he has led the Red Rebelettes to 30 district titles, 9 South State fast pitch crowns, and four fast pitch Class 6A state championships in.  His fast pitch teams have won 677 games with only 232 losses out of 909 games while his slow pitch squads have compiled 403 wins with 271 losses out of 674 games.  Overall, Coach Parker's softball teams have played 1,583 games with 1,080 wins and 503 losses for a winning mark of 68%.  He is one of five original fast pitch softball coaches in the state when the MHSAA first sanctioned the sport in 1995.  Jimmy saw the sport grow from five programs to 18 teams in two seasons and then enough teams to form the state championship tournament.  A highly acclaimed coach, Jimmy has been named softball coach of the year by the Clarion Ledger in 2015, by the Sun Herald on 5 occasions, and by the MAC in 2016.  He was the district coach of the year four times and was named the National Federation of High School Sports softball coach of the year in 2014.  In 2022, he was selected as the National High School Athletic Association softball coach of the year. Overall, he is a 14-time softball coach of the year including the Gulfport Sports Hall of Fame coach of the year in 2015.  Jimmy is a four-time MAC All-Star softball coach, one for slow pitch and three for fast pitch.  Coach Parker has been involved with the MAC as softball chairman for many years watching the growth of the MAC All-Star game to split squads to help promote the smaller school softball athletes.  He has been a frequent speaker at MAC and the Coast Clinics for many years.  Jimmy also volunteers to mentor younger coaches throughout the state.  Off the diamond, Coach Parker participates in the Tim Tebow "Night to Shine" program featuring proms for special needs persons.  He has also participated in the St. Jude Children's Hospital Dream Home projects plus other St. Jude fundraisers.  Coach Parker is an extremely active church member at the Woolmarket Baptist Church.  In addition to membership in the MAC Coaches Hall of Fame, Jimmy was inducted into the Gulfport Sports Hall of Fame in 2020.

Coach William "Moose" Perry

Coach William "Moose" Perry is a legendary baseball coach with a 50-year career at St. Joseph, Jackson Central, Forest Hill, Mississippi College, Northwest Rankin, Byram, Raymond, Central Hinds, RebUl Academy, and Hinds Community College.  Born in Meridian, Coach Perry graduated from Jackson Central High in 1962 and achieved his college degrees at Mississippi College.  He started as an assistant baseball coach in 1967 at St. Joseph and then Jackson Central High.  He arrived at Forest Hill in 1970 and created a high school baseball dynasty for six seasons.  Moose led Forest Hill to four North Little Dixie Conference championships, three district titles, one South State crown, and the 1974 Class AA State Championship.  Coach Perry then guided the Mississippi College Choctaws baseball team from 1976 to 1979.  At MC, he helped design Frierson Field and develop the Choctaw baseball program into a conference contender.  Moose was a professional baseball scout for 9 years for the Philadelphia Phillies, the Toronto Blue Jays, and the Chicago Cubs.  He worked as an assistant coach at Northwest Rankin for two seasons until 1987 and then arrived at Byram High for 5 years leading Byram to three district titles.  He coached Raymond from 1992 to 2001 guiding the Rangers to a district title.  Coach Perry then led teams at Central Hinds Academy, Rebul Academy, and one season at Hinds Community College.  Overall, Moose's high school baseball teams won 480 games with 187 losses out of 667 games coached.  He has received numerous honors during his career including being named Little Dixie Conference Coach of the Year two times, two-time district coach of the year, and the Metro Coach of the Year by the Clarion Ledger and Jackson Daily News in 1972 and 1974.  Moose was named MAC Baseball Coach of the Year in 1975, the same year he was also regional southeast coach of the year by the National Association of Coaches where he was also finalist for national coach of the year.  He has been a member of the MAC since 1967 where he served on the baseball affairs committee and was a district representative.  He has been a member of the   Crossroads Diamond Club since 1975.  Moose coached and taught for 55 years, only missing two working days in his career.  He is a seven-time Star Teacher as selected by the Mississippi Economic Council.  In addition to baseball, Coach Perry was assistant and head football coach for junior high football, assistant coach for varsity football, a 15-year boys' cross-country coach, a 4-year girls' cross-country coach, and head coach of the Raymond girls' softball team for one season.  During his career, he helped produce 3 players who advanced to the Major Leagues, 18 high school coaches, 1 JUCO coach, 6 college coaches, and 2 minor league coaches.  Off the field, Coach Perry was recognized with the WLBT-TV Spirit of Mississippi Award and was the Cystic Fibrosis Jackson Area Man of the Year in 1987.  Moose was the chaplain for the Jackson Mets from 1977 to 1986 and was the baseball chapel coordinator for the Texas League from 1982 to 1986.  Along with membership in the MAC Coaches Hall of Fame, Moose is a member of the Crossroads Diamond Club Hall of Fame.  The hitting facility at Mississippi College at Frierson Field was named in his honor on April 30, 2022. 

 

Coach George Willis

Posthumous Induction

The late Coach George Willis was an accomplished championship basketball coach who led programs at Simmons High in Hollandale for 36 years.  A native of Memphis, Tennessee, George was a star basketball player who was All-City, All-State, MVP, and one of the city's leading scorers at Douglass High.  Upon graduation in 1967, Coach Willis continued his basketball career at Alcorn where he was the team's leading scorer and served as team captain for the basketball and baseball teams.  He started his stellar coaching career in 1974 coaching boys' and girls' basketball at Simmons in Hollandale while also serving as athletic director.   Coach Willis paced the Blue Devils basketball squads until his retirement in 2010 leading his boys' teams to 6 conference titles, 9 district crowns, 4 North Mississippi titles, and three state championships in 1976 (Class A), 2001 (Class 3A), and 2004 (Class 2A).  He also led his girls' teams to 4 North Mississippi titles and back-to-back Class 2A state championships in 1992 & 1993.  Coach Willis led his boys' teams in 1,128 games with 841 wins and only 287 losses, and his girls' teams to 859 wins with 257 losses.  His girls' teams also claimed an 80-game winning streak.    As athletic director, he guided an athletic program that had over 1,200 students and a small budget with only two other staff members.  George was named district coach of the year 14 times for girls and11 times for boys, Mississippi Boys Coach of the Year two times, and was the Clarion Ledger basketball coach of the year in 2001.  He coached for the North All-Stars in the Mississippi High School All-Star basketball games in 1979 and 1987 with the boys' squad and in 1994 with the girls' team.  He was also an assistant baseball coach for 35 years, and coached softball for 18 years earning 9 district championships, and was selected as a Star Teacher in 1983.  Coach Willis was a longtime member of the MAC and led the prestigious Memphis summer league basketball program for 7 years.  Coach Willis passed away in 2018.