Congratulations to the Coaches who have been selected for induction into the MAC Hall of Fame!
This year's inductees will be honored at the annual Hall of Fame Banquet which will be held at the Hilton Hotel (Jackson, MS) on Friday, June 18, 2021 at 6 PM.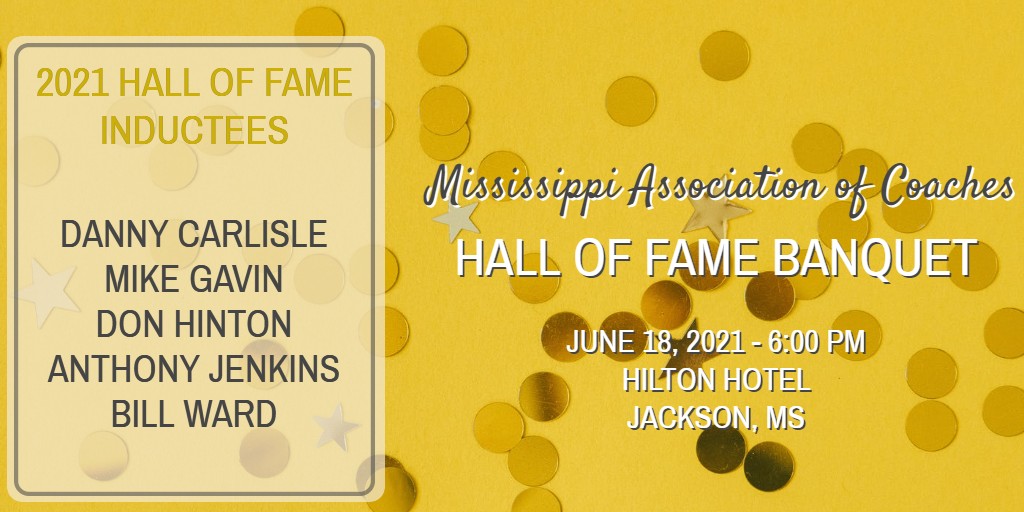 2021 Hall of Fame Inductees

Coach Danny Carlisle

Posthumous Induction

Coach Danny Carlisle was a native of Starkville who lettered two years in football and served as a manager for the baseball squad at Starkville High before graduating in 1971. He received collegiate degrees from Mississippi State before beginning a 34-year coaching career in 1978.  He entered the coaching ranks as head coach for the Starkville Yellowjackets junior high football and basketball teams and an assistant football and baseball coach from 1979 to 1989, then became head baseball coach in 1983 launching a championship head coaching career that would span 29 seasons.  Coach Carlisle guided Starkville in 823 games winning 571 contests and losing 252 for a 69% winning percentage.  He coached the Yellowjackets to 6 district titles, 1 North half runner-up finish, 4 North half crowns, 1 state runner-up ending in 1988, and 3 Class 5A State championships in 1986, 1987, and 1991.  Danny received numerous accolades for his coaching accomplishments including multiple MAC and District High School Baseball Coach of the Year awards, was named coach of the year by the Clarion Ledger in 1986 and 1991, and served as an All-Star coach in the Crossroads Diamond Club D. M. Howie All-Star Baseball Games on several occasions.  Coach Carlisle gave back to his profession by serving in several capacities with the MAC and as a past baseball committee member with the MHSAA.  He also served as the state director for Mississippi Dizzy Dean Baseball and helped initiate the coach-pitch program.  Coach Carlisle oversaw total baseball stadium reconstruction from 1987 to 1988, mentored over 20 assistant coaches who would serve as past and current head coaches on the high school, community college, and college baseball levels, and was Inducted into the Northeast Mississippi Coaches Association for Baseball Hall of Fame in 2012.  On March 22, 2012, the City of Starkville recognized him with a Danny Carlisle Day where his #24 jersey was retired at the school and the baseball stadium was named in his honor.

 

Coach Mike Gavin

Coach Mike Gavin is a longtime coach and athletic director who guided programs at Harrison Central, St. John, D'Iberville, East Central, and Mississippi Gulf Coast Community College.  He began his 30-year coaching career in 1973 at Harrison Central as assistant football coach and head track coach.  From 1978 to 1988, he served as head football coach and athletic director at St. John High where he also coached golf, softball, soccer, and track.  After coaching football at East Central at Hurley from 1988 to 1990, he began his great coaching run at D'Iberville where he was head football coach and guided the powerlifting program from 1990 to 1997.  Coach Gavin served as defensive coordinator at Mississippi Gulf Coast Community College from 1997 to 2002, then served as defensive coordinator for Mississippi Firedogs indoor football team in 1999 and 2000 where he helped the Firedogs capture the 2000 IPFL Championship under MAC Hall of Fame member, Irvin Favre, with former Ole Miss star John Fourcade as quarterback.  Mike moved to school administration when he became assistant principal at Stone Middle School from 2003 to 2006, then worked as principal from 2006 to 2011, and served as athletic director for the Harrison County School District from 2011 to 2014.  Coach Gavin led his St. John, East Central, and D'Iberville football teams to a record of 114 wins and 92 losses out of 206 games played for 55% winning mark.  He paced St. John to district championships in 1982 and 1987, and D'Iberville to district championships in 1992, 1994, & 1995.  During his career, he received five district coach of the year awards, three Ocean Springs Record All-Bay Area Coach of the Year accolades, four Mississippi Gulf Coast "Burger King" All-Stars Coach of the year awards, a Mississippi Gulf Coast Football Hall of Fame Coach of the Year honor, and the 1987 MAC Athletic Director of the Year Award.  Coach Gavin coached in the Bernard Blackwell Football All-Star Classic in 1988 as an assistant, and in 1993 as head coach, then served as assistant and administrative coach in the 1992, 1993, and 1997 Mississippi/Alabama All-Star Football Classics.  He also worked as assistant coach at the 1999 Mississippi Junior College All-star game.  Coach Gavin served on the MAC Board of Directors from 1978 to 1988 and as MAC President for 1982-1983, and was a member of committees that were instrumental in creating the Mississippi/Alabama All-Star Football Classic. He also served as Vice President and President of District VIII with MHSAA and had an 8-year stint on the legislative council.  As St. John athletic director, he established softball, soccer and golf programs while helping to build a $200,000 field house, helped D'Iberville build a $50,000 junior high field house, and as AD for Harrison County Schools, added golf and tennis programs at West Harrison, volleyball at D'Iberville, and introduced archery, middle school fast pitch softball and soccer throughout the district, and also organized a coaching clinic for area pee-wee football coaches.

Coach Don Hinton

Don Hinton is a longtime coaching veteran and athletic administrator who recently retired as Executive Director of the Mississippi High School Activities Association.  Don graduated with honors from Bay Springs High School in 1973 as Most Athletic, All-Conference and Most Valuable football player, and was named to the school's Hall of Fame.  He played football at Jones Junior College from 1973 to 1975, where he received All-South team honors and played in the Mississippi Junior College All-Star game before earning college degrees at Mississippi College in 1977, and at the University of Southern Mississippi in 1985.  He started his coaching career in 1977 at Mississippi Baptist High School in Jackson and led his basketball team to a district title in 1978.  Coach Hinton was an assistant football coach at Jim Hill from 1978 to 1980, assistant then head coach at Murrah from 1980 to 1984, assistant at Southern Miss 1984-85, then head football coach and athletic director at Northwest Rankin from 1985 to 1990.  His next stop was at Ocean Springs, where he coached and served as athletic director until 1994, guiding his football team to the 1993 district championship, before moving to Vancleave as head coach and athletic director from 1995 to 2000.  He returned to Ocean Springs as athletic director from 2004 to 2008, giving him a combined 17 years of service as an AD.  His football teams compiled a record of 83 wins, 49 losses and 1 tie out of 133 games for a 62% winning percentage, and his girls' basketball teams racked up a record of 26-19.  Coach Hinton received coach of the year awards from Capitol Big-Eight Football, the Ocean Springs Record, the Sun Herald News and the Gulf Coast Chapter of the National Football Foundation Hall of Fame, and in 2006, was named MAC and MHSAA Athletic Director of the Year.  He served as an All-Star Coach in the 1996 Bernard Blackwell Classic Football game and in the 1997 Mississippi/Alabama game.  Additional honors and awards received were the Award of Merit from Gulf Coast chapter of the National Football Foundation Hall of Fame in 2009, and selection as Person of the Year in 2019 by the Mississippi Athletic Trainers Sports Medicine Association.  A member of the MAC since 1977, Don served on the Board of Directors from 1995 to 1999, on the MHSAA Executive Board from 2001 to 2008, and on the board of the National Federation of High Schools Foundation since 2016. He also served the MHSAA from 2011 to 2020 as Executive Director in succession of MAC Hall of Fame member Dr. Ennis Proctor.  He organized the Ocean Springs Athletic Foundation and other coaches' clinics in South Mississippi, and directed new championship venues and added new sports with innovative software tech programs for the MHSAA.  On numerous occasions, he has been a speaker for the MAC multi-sports clinic, for the MHSAA AD & Superintendent Conferences, as well as serving as an athletic department consultant and school district motivational speaker.  His community service includes the Board of Directors for Ocean Springs YMCA, Salvation Army Gulf Coast Board of Directors, and committee member at St. Paul United Methodist Church in Ocean Springs.

Coach Anthony Jenkins

A veteran coach and athletic director, Anthony Jenkins guided the football, track, and powerlifting programs at Hernando High School. He was born in Memphis, TN, and was a 1975 graduate of Hernando High where he was a 4-year letterman in football and track and also selected as Best Citizen for two years.  He achieved his college degree at Mississippi State where he lettered in football in 1978 & 1979 and earned his master's degree at Concordia University in Irvine, CA, in 2012.  His 34-year coaching career began in 1980 at Memphis Southside High where he was assistant football coach for eight seasons before arriving back at his alma mater as head football coach in 1988.  Coach Jenkins is the winningest football coach in Hernando history with a record of 165 wins and 103 losses out of 268 games played from 1988 to 2013, leading his Tigers teams to seven playoff appearances, three district titles, and a North runner-up finish in 2002.  He guided the Hernando track teams for 23 years and led the powerlifting squads for 19 years producing 25 individual state powerlifting champions.  His lifters also claimed five regional championships, one North half runner-up finish, and the 2010 state runner-up finish. In 2008, he tutored Ricky Robertson, the number one high jumper in the nation, who would star at Ole Miss and compete in the 2016 Olympics.  He also coached three football players who went on to play in the NFL - Kevin Dockery, Deljuan Robinson, and Bradley Sowell.  He served as athletic director at Hernando from 1990 to 2013 and has served as DeSoto County School District A.D. since 2014 for three decades of experience as an athletic administrator.  He was named the MAC Athletic Director of the Year in 2019, and was a finalist for the 2018 National High School Athletic Coaches Association Athletic Director of the Year Award. Coach Jenkins coached in the Bernard Blackwell Classic All-Star Football game as an assistant coach in 1990 and as head coach in 2012, and was an assistant coach in the Mississippi/Alabama All-Star Football Classic in 2001 and 2008.  He was named Teacher of the Year in 1997 by Hernando High and received the 2003 Gerald Ford All-American Football coach award.  A MAC member since 1988, he has also served on the MHSAA Executive Board from 2009 to 2013 and 2017 to present date with a term as President from 2015 to 2016.  He has been a clinic speaker at Mississippi State, University of Memphis, and Arkansas State.  In 2016, the football field at Hernando High was named "Anthony Jenkins Field" in his honor.

Coach Bill Ward

Bill Ward hails from Ackerman and was an All-Cherokee Conference MVP in football who graduated from French Camp Academy in 1971. He earned his college degree at Mississippi State in 1979, and began his 38-year career at Mantachie High School where he was assistant football coach and head coach for girls' basketball and track for two years. Bill arrived at Kosciusko High School in 1981 where he was assistant football coach and head girls' basketball and track coach for the next three years.   Coach Ward then moved to Pelahatchie in 1984 where he first worked as assistant football coach and head coach for boys' track.  He stayed at Pelahatchie for the next 33 years achieving great coaching success as the head football coach from 1988 to 2017 while also serving as Athletic Director until his retirement.    Coach Ward led his Chiefs football team to a record of 201 wins and 131 losses out of 332 games played for a 61% winning mark.  His Chiefs captured eight district titles, the 1998 Class 1A South State crown, and the 2001 Class 1A State Championship.  He coached Pelahatchie gridiron teams that had two undefeated regular seasons and made 20 playoff appearances.  He also coached in the 1997 Bernard Blackwell Classic All-Star Football game and in the 1998 Mississippi/Alabama All-Star Classic football game.  The Jackson Clarion Ledger named him Metro Coach of the Year in 2001, and he was honored with the Mississippi Association of Coaches Roy Garcia Outstanding Coach Award in 2010.  A longtime member of the MAC, he served on the Board of Directors from 2000 – 2013, was Vice President in 2013 - 2014 and President in 2014 - 2015.